It just takes a little bit of know-how and a few weird ingredients to nom yr way through tempeh heaven. This fermented favsie is packed with protein and bursting with good bacteria. Plus, it really does taste delicious, with like literally any flavor combo you can think to throw on that bih. But sadly, a lot of people don't really know what tempeh is (even if it can be found at most grocery stores)... Or why it's even so good for yr gut? Or what it's even made of? Is it like, the same thing, as like, tofu?! No.
Brace yourselves: tempeh is moldy beans mmmm mm good. Well maybe its a lil more involved than that. Specially, we can thank the white mycelium spore, Rhizopus oligosporus, for its hard work in forming the tempeh cake. Of which can then be sliced, fried or steamed as an alternative to meat. It is always best to eat cooked beans as fermented food. This makes them easier to digest, plus helps you absorb more of the protein content. The fermentation makes the beans (we chose to use garbanzo) softer through enzymes produced by the mould. As the Rhizopus mold cultivates, enzymes predigest a large portion of the basic nutrients. Meanwhile these enzymes are producing phytase, which breaks down phytates, thereby increasing the absorption of minerals such as zinc, iron and calcium. The fermentation process greatly reduces the oligosaccharides that make beans hard to digest for some people. Plus it cuts out all the gas most people suffer through with legumes, as studies have shown tempeh to be essentially non-flatulent. Tempeh is also known for containing high level of protein, B vitamins (not B12), minerals, and process phytochemicals such as isoflavones and saponins- all highly digestible as a result of its fermentation .
Tempeh is known for containing
high levels of protein, B vitamins, minerals, and phytochemicals- all highly digestible as a result
of its fermentation.
Bottom line pro tip: eating fermented tempeh helps you absorb nutrients, keeping yr gut balanced with an equilibrium, if you will, of beneficial bacteria. Plus, tempeh contains more fiber because the whole soybean is used, thus helping that digestion chug peacefully along. Think of a mother bird regurgitating food for its babies, easing their digestion -- fermenting your food, more or less, has the same effect. The enzymes act as little catalysts to help break down the necessary nutrients reaped from our noms.
But enough boring nutrition chit chat. Lets talk about what we really love about tempeh, that it tastes so amazing! There is nothing like a homemade tempeh recipe to make you realize what you've been missing out on. It has that perfect, non rubbery texture with a rich, buttery mushroom taste that doesn't compare to the bland store bought varieties. And while making your own tempeh is a super easy process, you will need to purchase a starter. There are a few places online to get it, we got ours from cultures for health. You will also have to have an incubation chamber ready to go. There are lots of ways you can incubate your tempeh: a food dehydrator, an oven with a low temp, or with just a light turned on in a cupboard. But be sure to add a thermometer to check the internal temperature. If using an oven, you might need to crack the oven door every now and then to keep the oven at the right temperature of 83-90°F for 20-28 hours. Make sure not to go over 90 as you will kill the starter and allow unwanted bacteria to grow. After 14 or so hours, you can reduce the temperature as the fermentation is now generating it's own heat. Don't be alarmed when you see white fuzziness growing near the end of the process. That's the point!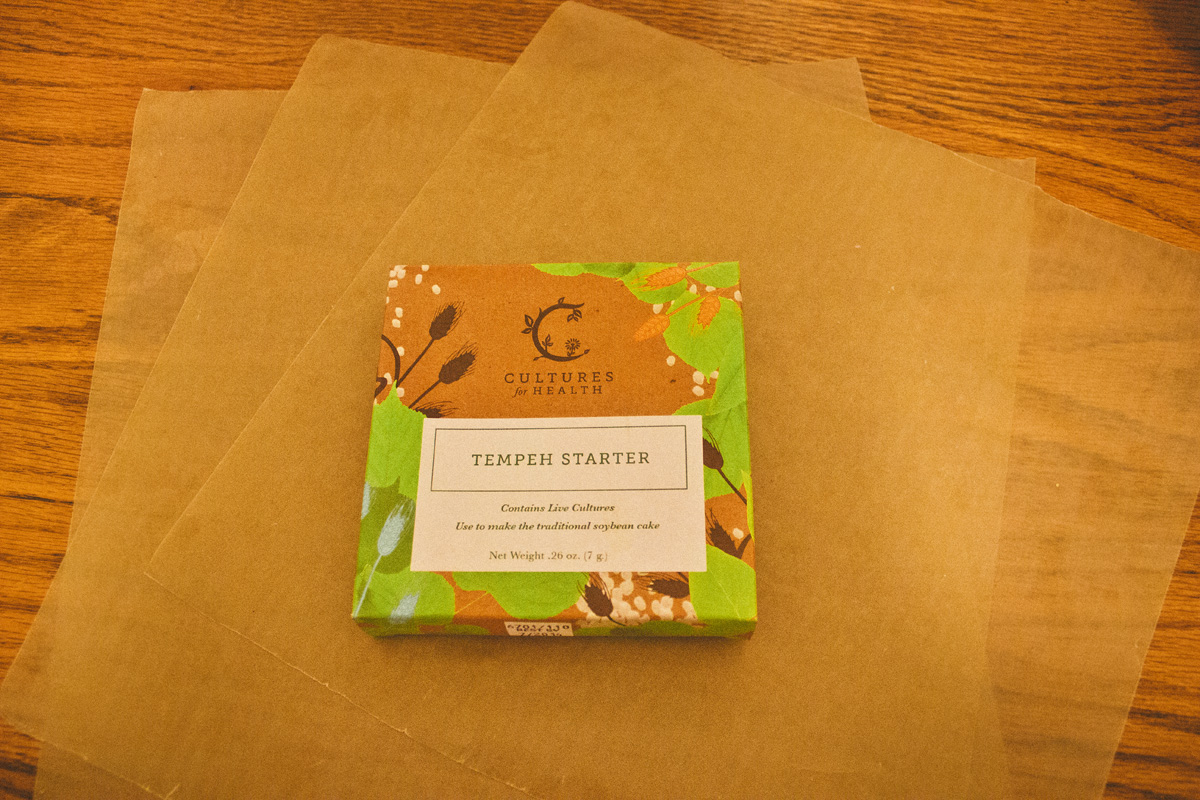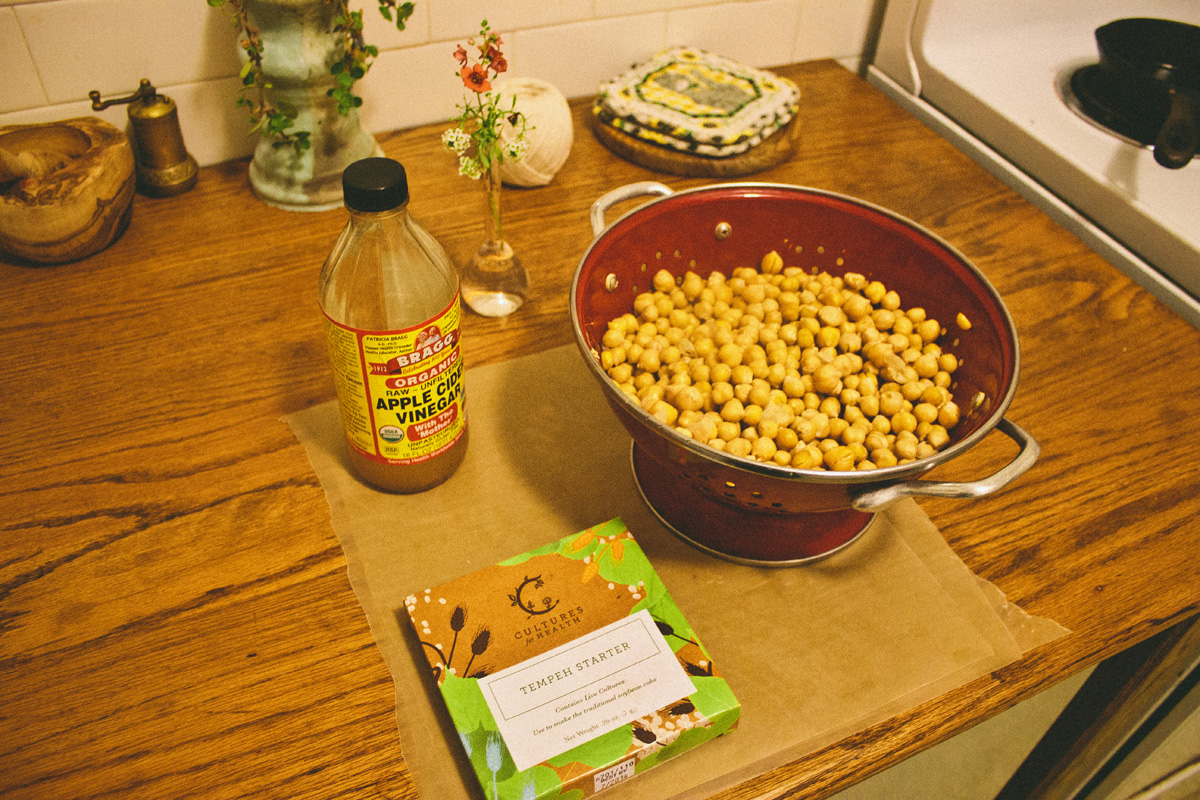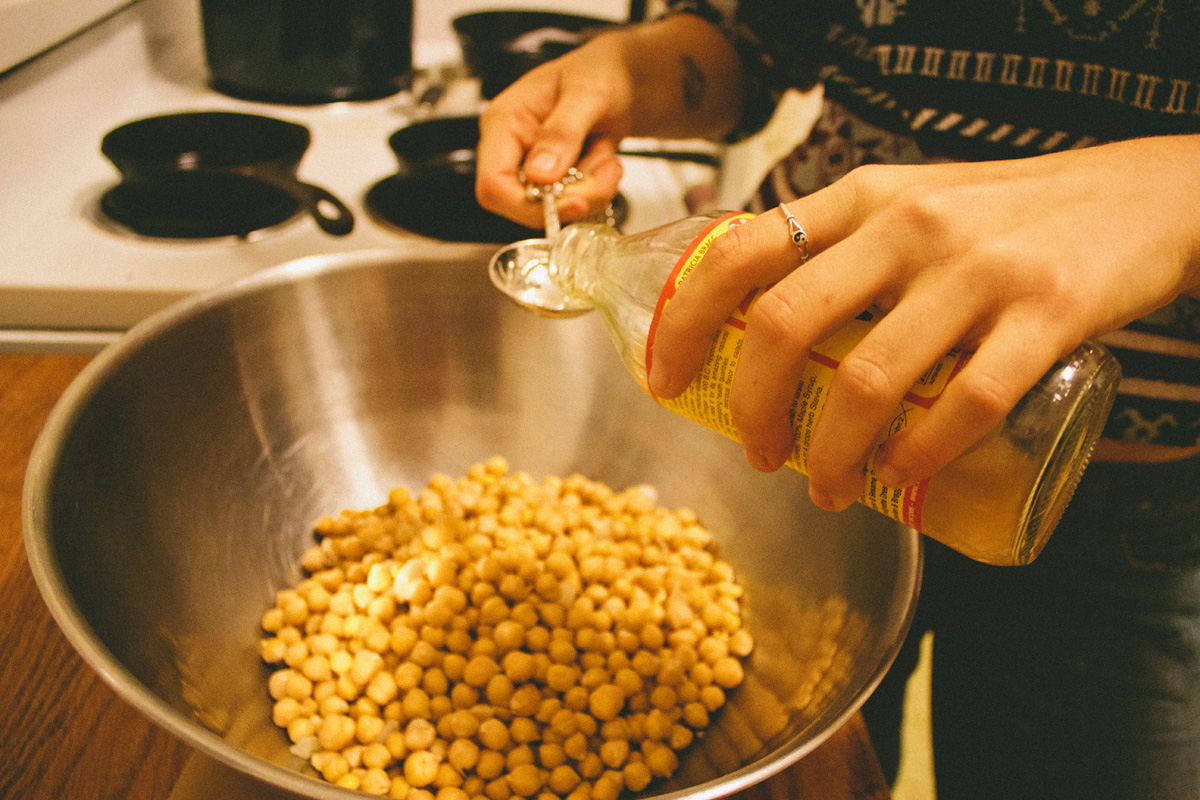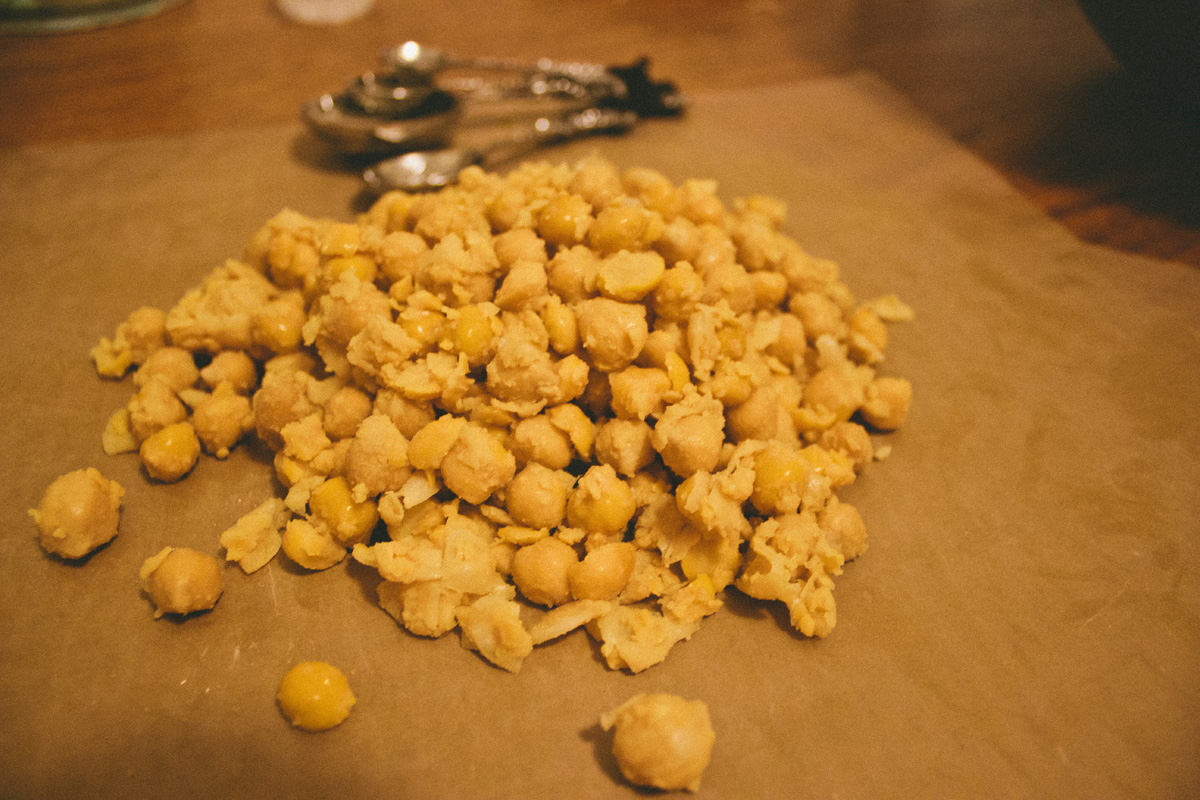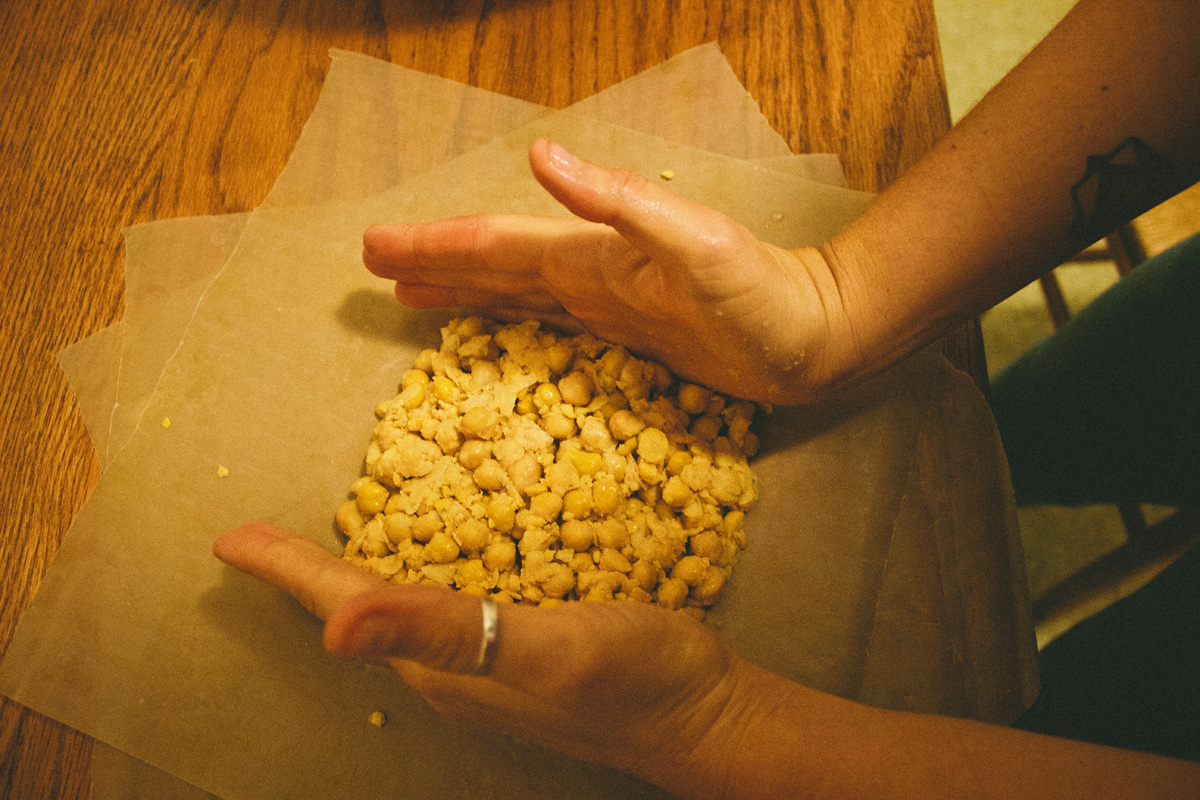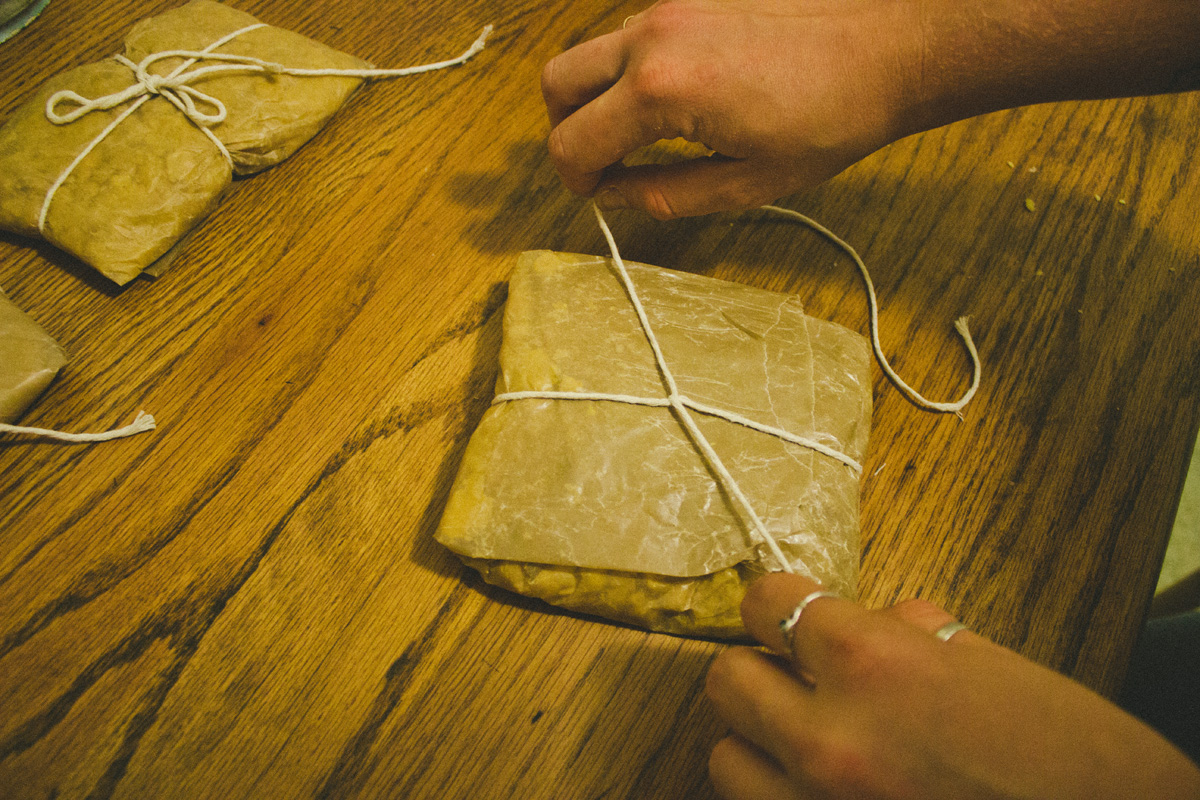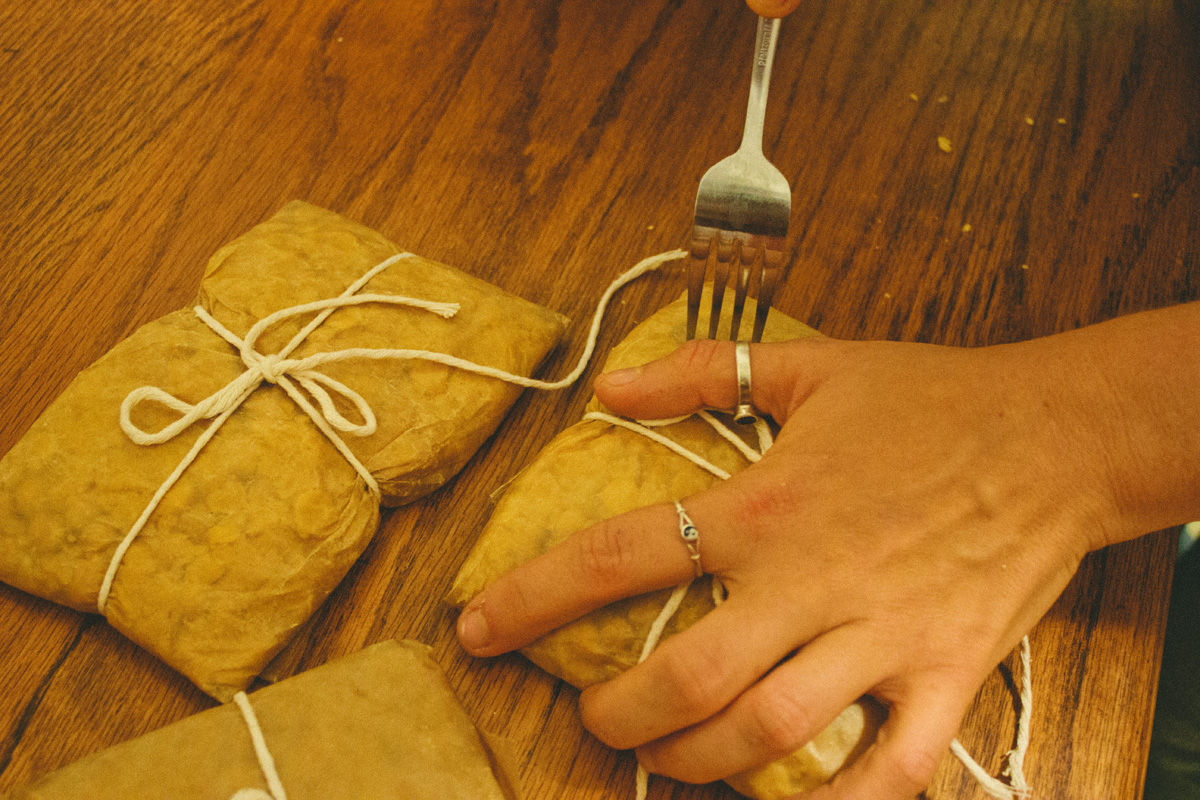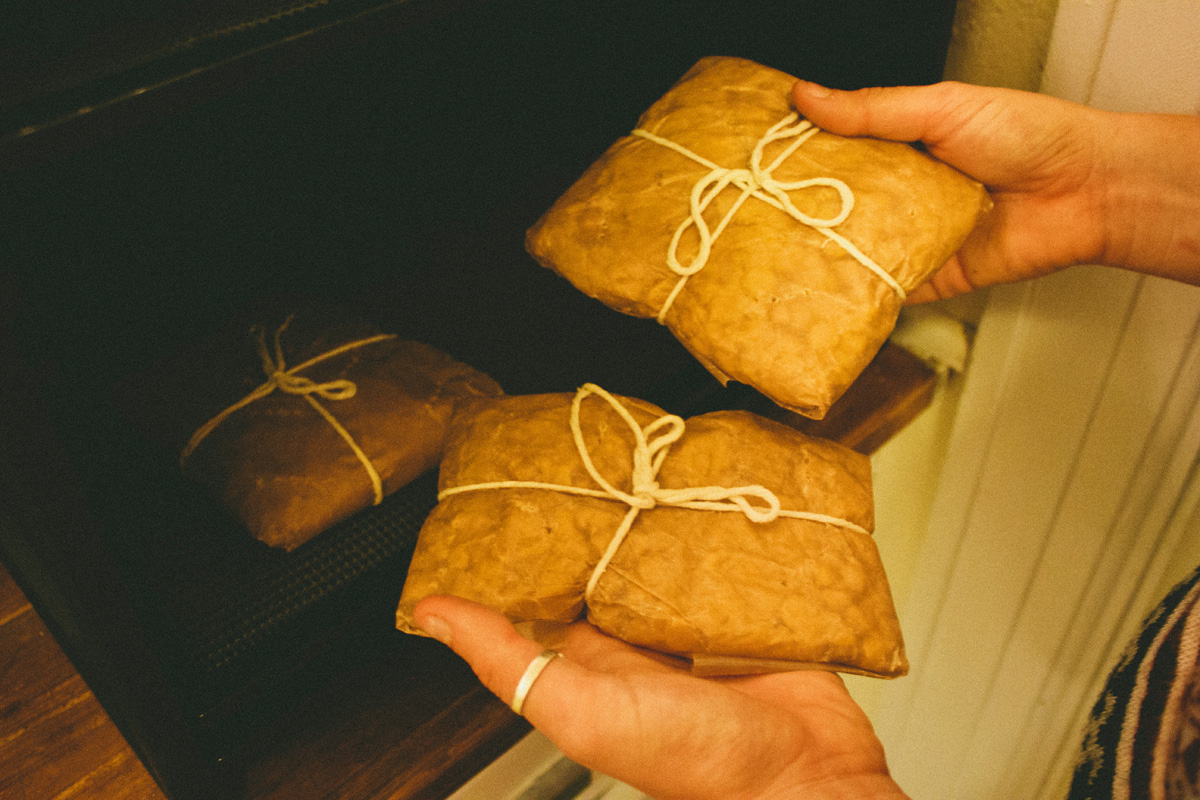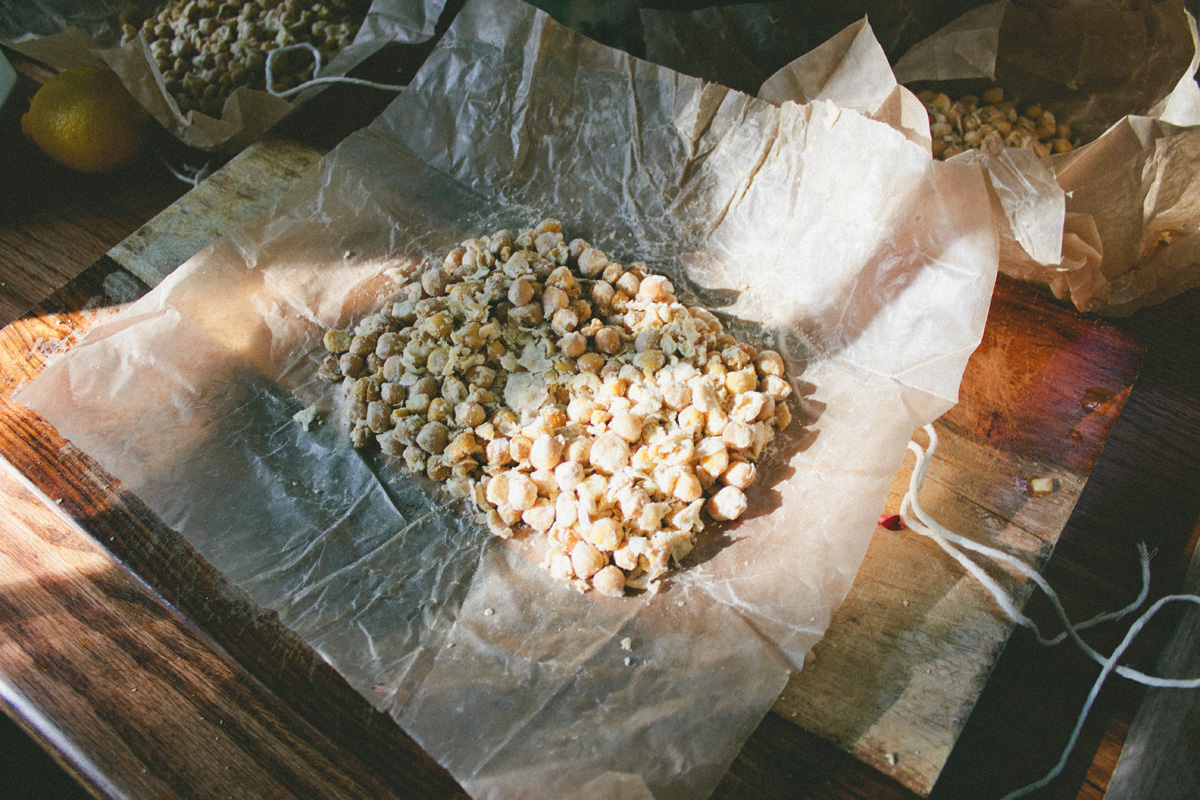 The best part of making tempeh is, you get to choose any bean you like! We went with a garbanzo because it's something new and different, but feel free to experiment with any legume really. Heck even add a grain or seaweed to spark things up. Oh and keep in mind its not unusual for there to be a bit of a learning curve whilst making your first batch. This was our first round and really only half-successful... We used wax paper to wrap the tempeh instead of more airtight ziploc bags. If your tempeh doesn't turn out right, don't be discouraged, just try again! It'll taste good no matter what. So go make some tempeh.
Ingredients:
4 cups of garbanzo beans
4 tbsp vinegar
2 packages or 3 tsps tempeh starter
Instruments:
Airtight packaging- we used wax paper but
ziplocs might be more effective.

Method:
1. Cook, rinse and strain chickpeas. Then towel dry or lets beans air dry for a few hours.
2. Mash half the beans with your hands with some whole bean remaining.
3. Add vinegar and mix well.
4. Add tempeh spore and mix thoroughly. It's very important to mix the tempeh starter well -- it reduces the risk of spoilage and the fermentation will be faster.
5. Pack tightly into a ziploc bag (quart or gallon size is fine) and puncture holes with a fork to create air flow for the tempeh to breathe.
7. Spread evenly and pack it down tight.
8. If using a dish or pan place a piece of aluminum foil on top and poke holes in foil.
9. Find a place to incubate (we used a dehydrator, but an electric heating pad will do the same justice) for 24 hours, btwn 85-90 degrees.
10. Check the beans after 14 hours. At this point in the process the fermentation will cause the beans to generate their own heat so the external heat source will normally need to be reduced.
*Signs of success: After the fermentation process, your tempeh should smell pleasant with a rich nutty, mushroom aroma. The white mycelium will start to cover the surface of the beans. Patches of grey or black coloration mean your tempeh has cultured correctly. If it smells off-putting or has green mold or a slimy texture discard and try again. The tempeh should be firm and stay together when sliced into bean cake-like pieces. You can use right away, refrigerate or freeze. The flavor stays the same after freezing so you can make a batch to keep in the freezer. Defrost as you would any other protein, I pull it out in the morning for dinner that night.