Ordained cleanser of bad vibes, burning sage remains a most effective healing ritual for both spiritual ceremonies and the departure of bad roommates alike. The practice of burning dried plants to produce smoke as means to purify the air and conjure healing benefits is an ancient tradition from roots all over the world. Our western culture most often pulls from the Native American Indian practice of smudge sticks and their use of dried herbs such as sage, sweetgrass, cedar, and lavender as healing plants. Sage, per our modern-day interpretation sage sticks, has historically been considered a highly sacred ingredient by the Native Americans.
White sage (Salvia apiana) is member to the mint family (Lamiaceae) and has long been applied to both medicinal and culinary purposes. In fact, it's genus name Salvia derives from the Latin salvere, meaning "to be saved". So no shocker that this herb has had healing value throughout history.
Sage is an effective natural disinfectant, antioxidant, anti-inflammatory, anti-fungal, and antiseptic just to name a few. In ancient smudging rituals, sage sticks were used ceremonially to cleanse the air, increase oxygen levels, evil spirits, balancing emotions, and promoting strong health. The act of binding the herbs for each stick was a sacred act in itself.
The act of burning sage is believed to purify and cleanse the environment, and provides a particular scent more pungent than candles or incense. Aside from its disinfectant and anti-inflammitory properties, the smoke of burnt sage has been used clear the mind and enhance spiritual awareness. Cleansing rituals with sage don't have to be elaborate though. Proper focus on the space or person you'd like to cleanse, a heatproof dish, and your sage stick are the only items needed to experience its benefits. The flow of smoke can depend on everything from how dry your sage is to the sage variety. Additional plants and herbs in the bundle can also add to the burn effects.
Choosing and harvesting the herbs:
Not all herbs, and even some varieties of sage are best to burn when dried. We were lucky enough to have an abundance of wild California white sage right outside our door when up in Idyllwild last visit. White sage, aside from its traditional healing purposes, is best to use for its wide spanning leaves that bundle tightly together rather than loose leaf. You'll note that our sage is premature in season. Again this is fine, but beware of extra ash when burning the sticks. Garden or common sage will do the trick, too. Other smudging plants to use include cedar, sweetgrass, and sagebrush. Various herbs and wildflowers make as wonderful additions to your smudge stick. Resinous herbs you may have laying around that you can use include thyme, yarrow, lavender, rosemary, and pine. For wildflowers, be sure to test the effects of its burn before tying them in with the other materials. Or of course you can just plan to use the bundles as beautiful house garnishes that will remain un-torched.
Try to bind your herbs the same day as you harvest them, as resinous herbs tend to dry quickly. If you're harvesting from wild plants, be sure to cut the stems rather than pull from the root. We don't want to disturb any native plant life.
Choosing the string:
If you're planning to burn your sage stick per its ceremonial intention, choose a natural material to bind the plants that won't put off toxic fumes, such as organic cotton string. When wrapping try to use as little string as possible to further prevent potential danger and a date with the fire department.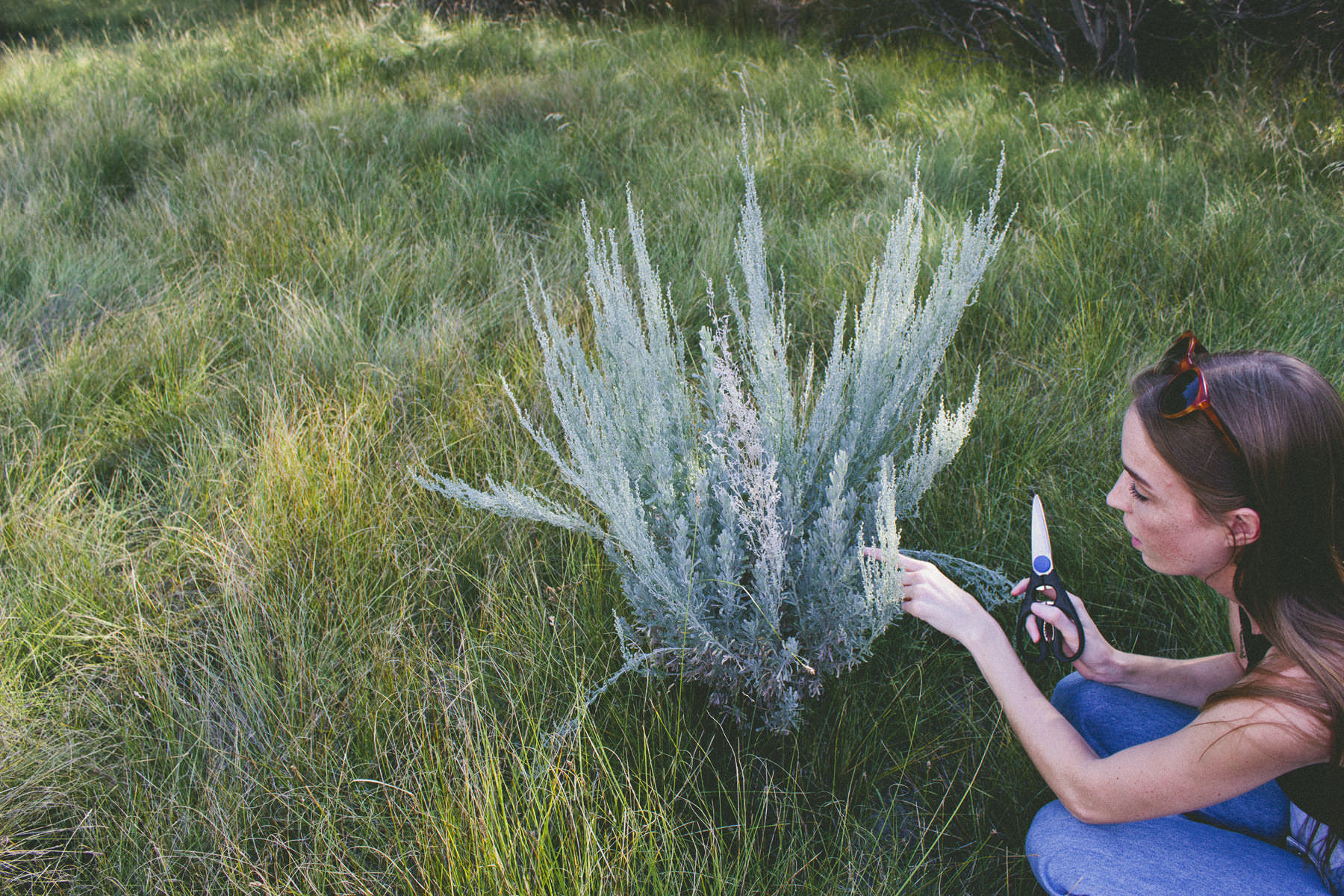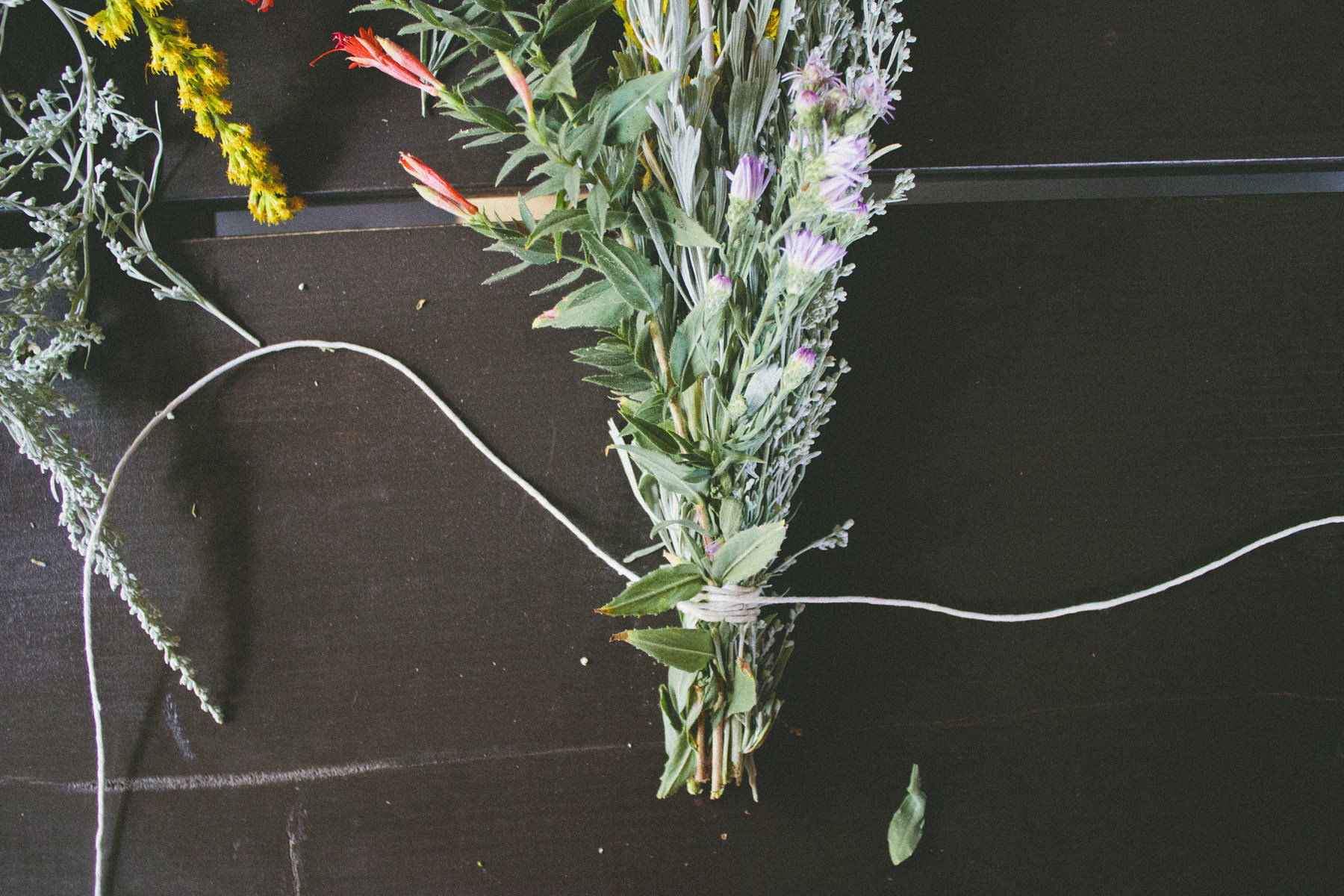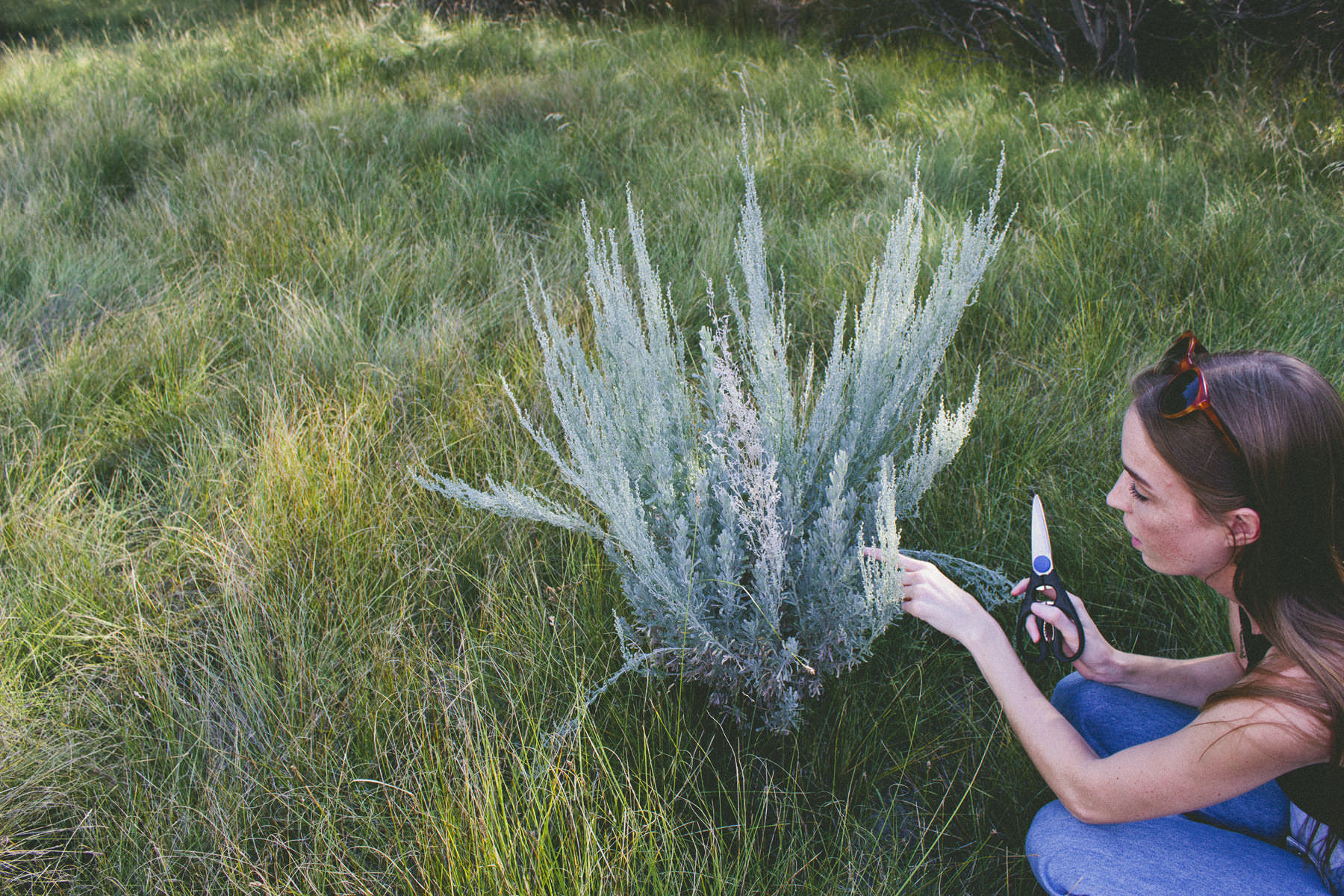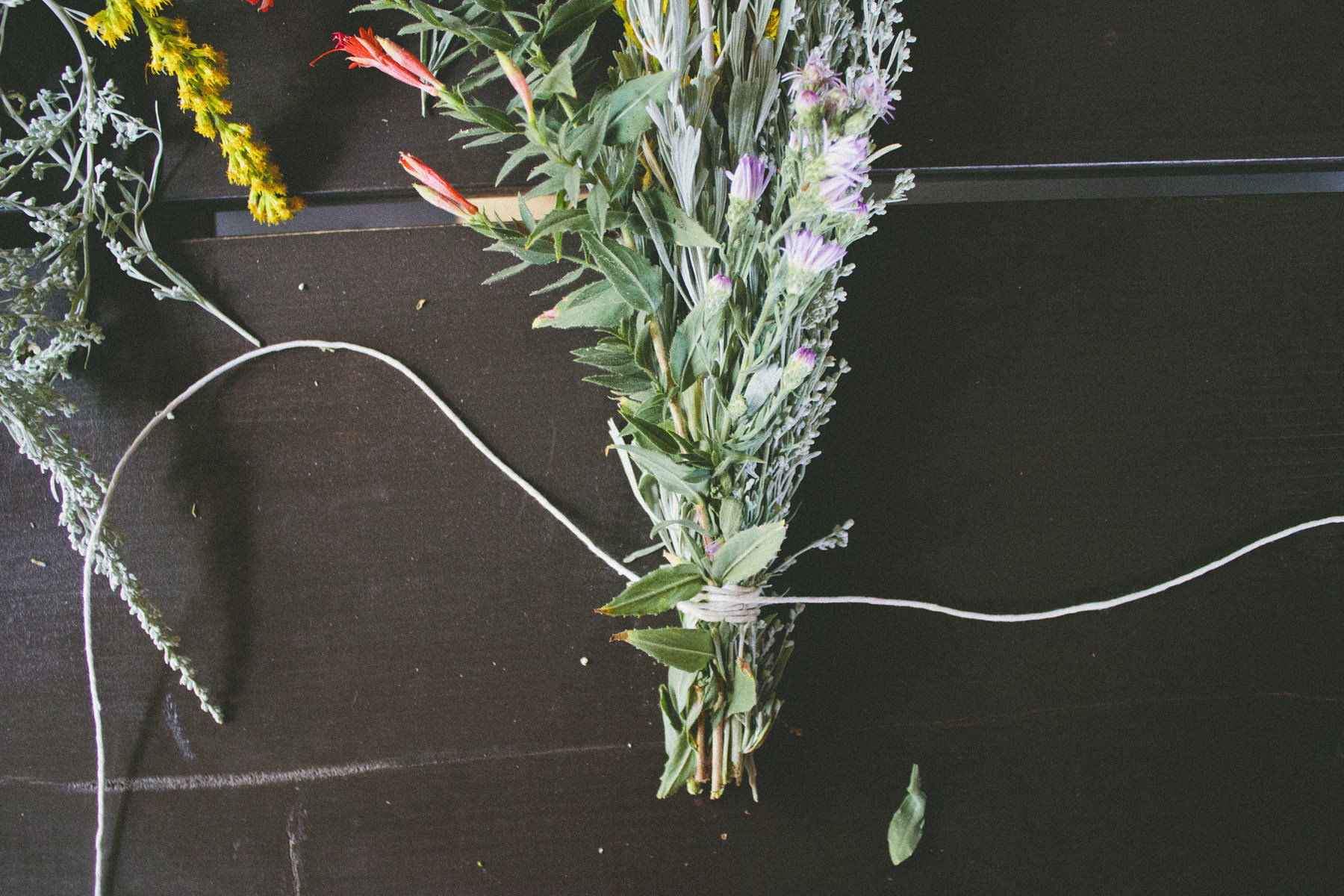 Ingredients:
A bundle of white sage
Optional:
Sweetgrass
Sagebrush
Cedar
Lavender
Thyme
Yarrow
Wildflowers
Thin, organic cotton, embroidery twine
Scissors or shears
 
Method:
1. Properly harvest your sage, additional herbs, and wildflowers. Remember to test the burning effects of a plant you may be unfamiliar with before adding it to your stick.
2. Arrange the sage stems in a tight fistful. Add in any additional herbs or wildflowers throughout.
3. Cut string about 3 ft. and begin to move up and down the sage stick as tightly as you possibly can. Try to create a criss-cross pattern, multiple times over. Bind tightly at the bottom.
4. Set your sticks somewhere dark and with consistent air flow to dry the sticks.
5. After a few weeks when your sticks should be properly dried, you can use them for at-home smudging ceremonies. Light and then extinguish the flame until you have somewhat of a smoldering. Then, with your hot plate underneath, wave the stick with its trail of smoke to your environment. Be sure to fully put out the burn once you're finished.