While frolicking around the mountains of North Carolina, we couldn't end our trip without making a stop at our favorite Urban Homestead Supply Store V I L L A G E R S. While there we had the absolute pleasure of going to a Fermentation Workshop taught by Ethnobotanist Marc Williams. An expert with fermentation practice, Marc was an incredible teacher who often does workshops like this in the area. He was friendly, charming, informative, engaging and a joy to listen to. We have a tendency to ask a LOT of questions when it comes to this subject, so we went with our guts and asked away; he answered all of them without hesitation. Best part of the class was that he shared with us an array of amazing cultured foods he has made. Everything from Dosas, Apple Soda, Jun, Water Kefir, Seed Cheeses and Ginger Brew. It was a lovely afternoon spent with friends and a wealth of knowledge. We are re-energized about stepping back into the world of fermentation and sharing all our experiences with you! But first here's a little sample of the basics of fermentation provided in the workshop from le expertise Williams.
History
Fermentation has been used for thousands of years all over the world by every indigenous group. It was one of the first methods used to preserve food. It empowered the age of exploration on long voyages to prevent scurvy.
Benefits
In short, fermented foods act as probiotics which help aid digestion and ward off disease. Challenging microbes may also be held in check through the presence of beneficial micro-flora, thereby improving the overall microbiome. Lactobacillus for instance can ward off Shigella spp. and Escherichia coli.
Nutrients are also made more available through the process of fermentation. Digestive enzymes are created that help the body break down complex proteins. The complex proteins of soybeans for examples are broken down into more simple amino acids. Lactose in milk is broken down into lactic acid, B vitamins and then created.
Health promotion aside, fermentation can also enhance the taste of food by adding variety, unique textures and distinct flavors - Umami is the term used to define this taste.
Techniques
There are various forms of fermentation that keep out air from the container, to promote the fermentation process. These vessels include crocks, carboys, and jars. Pro-tip: don't use aluminum, chipped ceramics or many plastics.
Problem Solving
Be aware of fluorescent, fuzzy growths, and butyric acid during the process. Downsizing containers as necessary is helpful when going through your ferments. Major factors that contribute to your fermentations include: time, temperature, pH, non-iodized salt, non-chlorinated water, and air.
Suggested Reading
Fermented Fruits and Vegetables: A global perspective by Battock
Nourishing Traditions: The Cookbook that Challenges Politically Correct Nutrition and the Diet Dictocrats by Fallon
The Body Ecologist Diet: Recovering Your Health and Rebuilding Your Immunity by Gates and Schatz.
The Complete Idiots Guide to Fermenting by Harmon
Wild Fermentation: The Flavor, Nutrition, and Craft of Live Culture Foods by Sandor Katz.
The Art of Fermentation: An In-Depth Exploration of Essential Concepts and Processes from Around the World by Sandor Katz.
The Permaculture Book of Ferment and Human Nutrition by Bill Mollison
*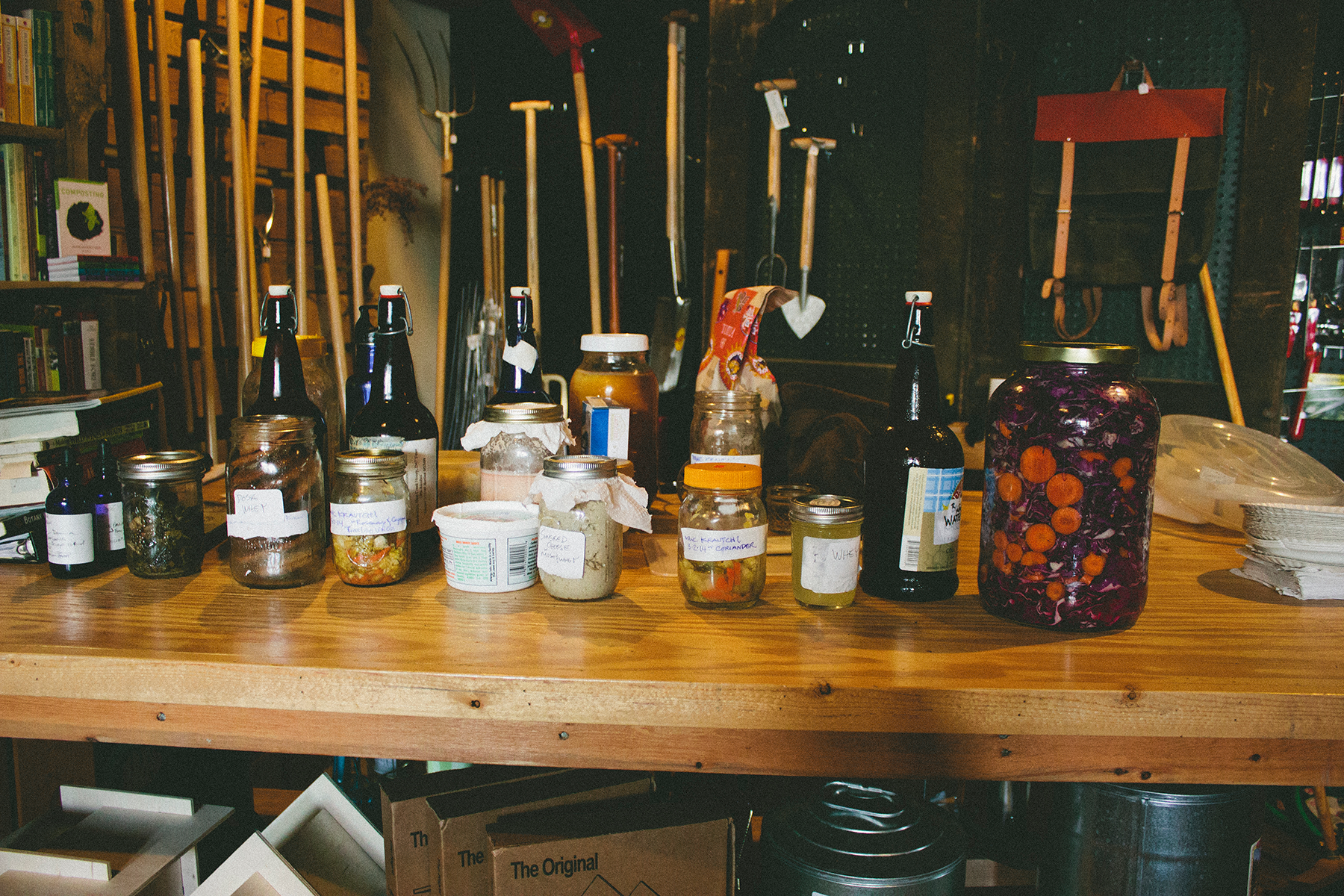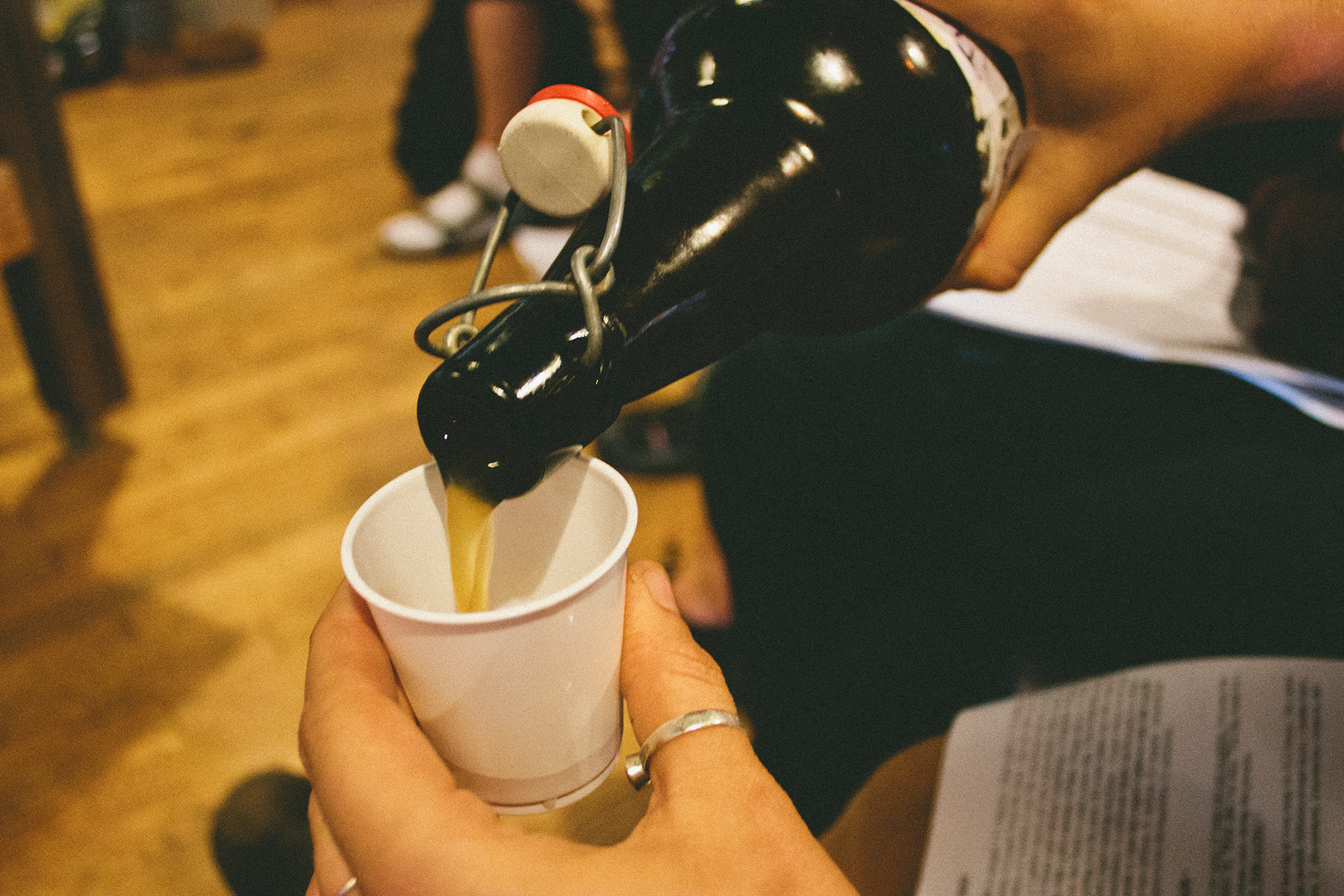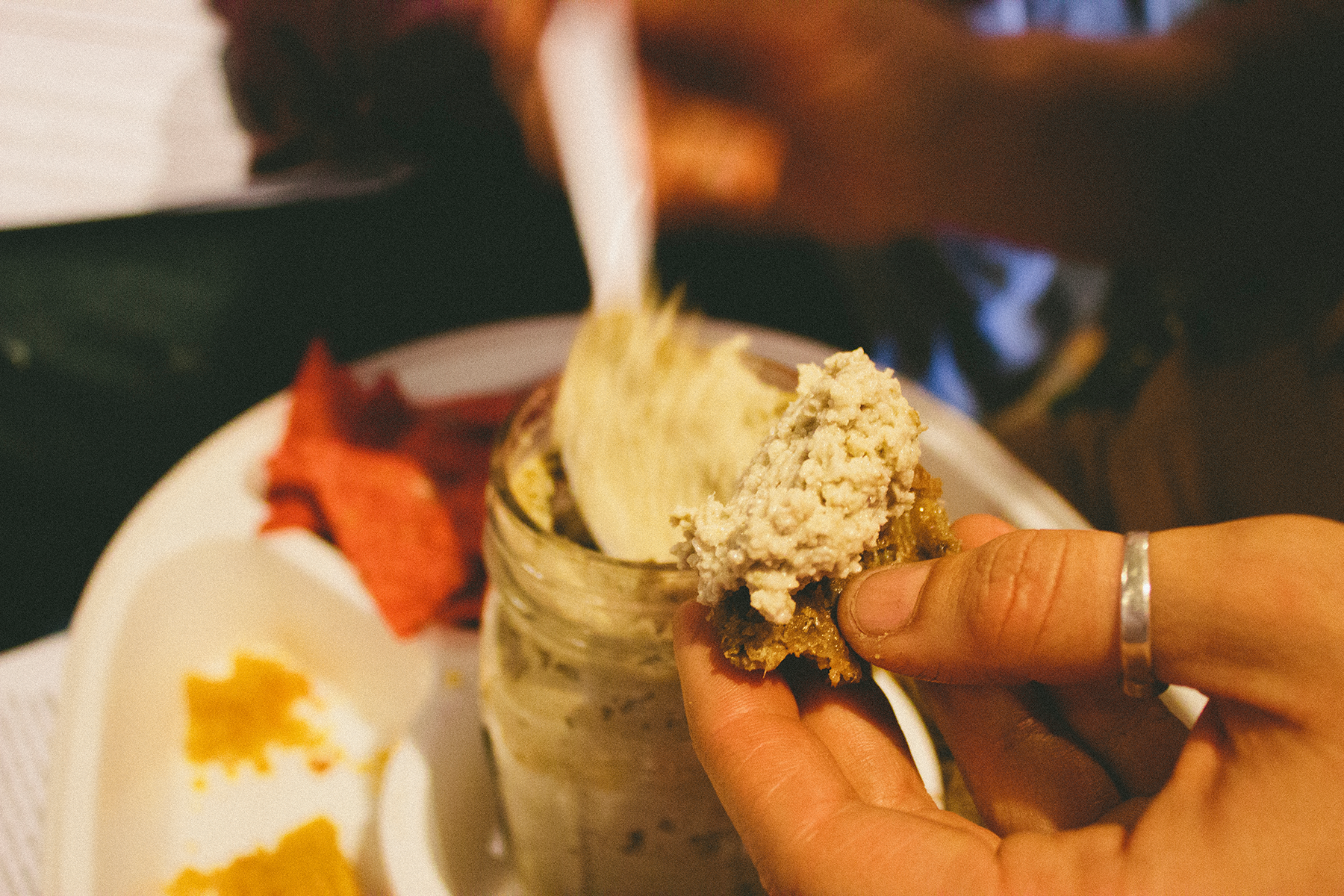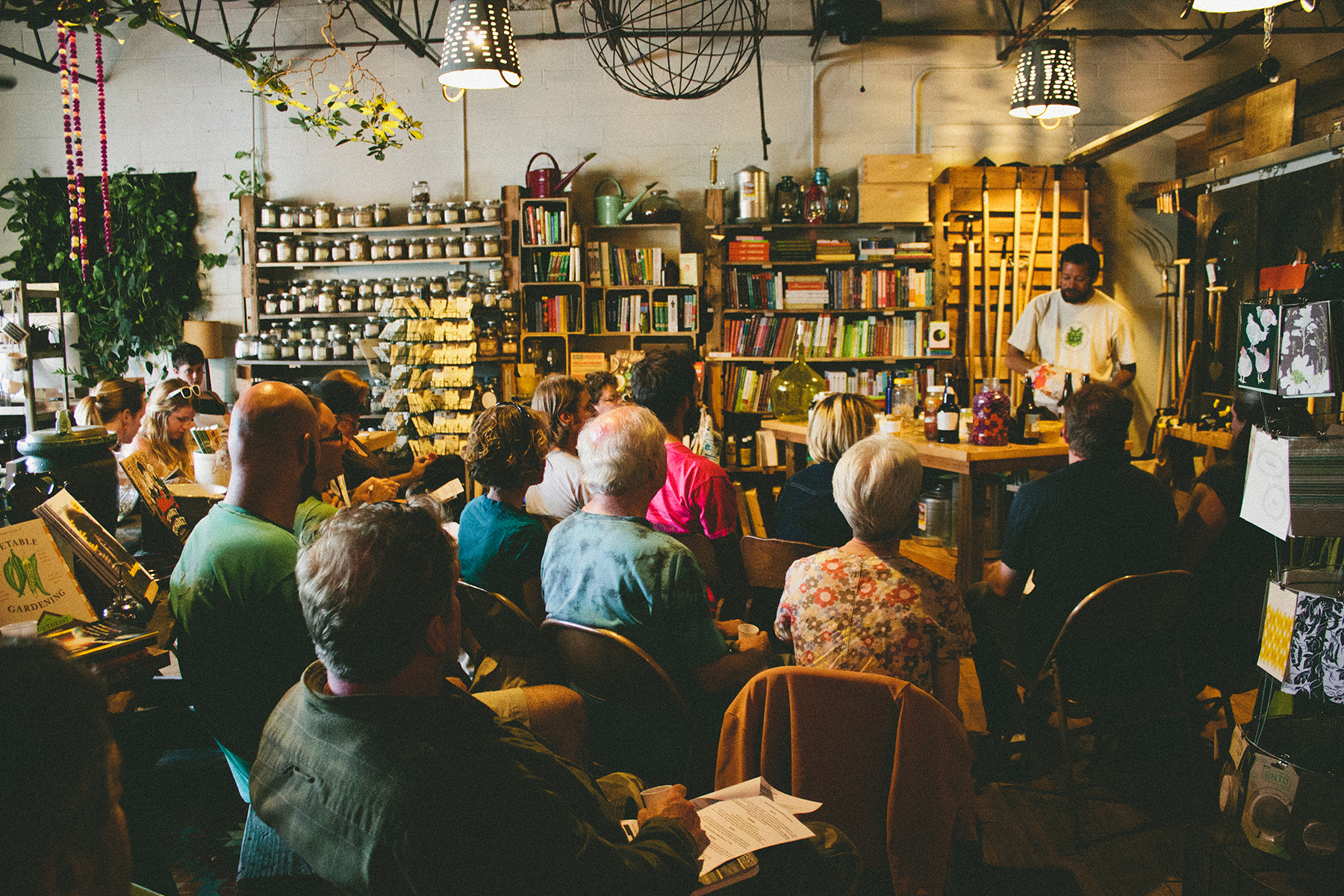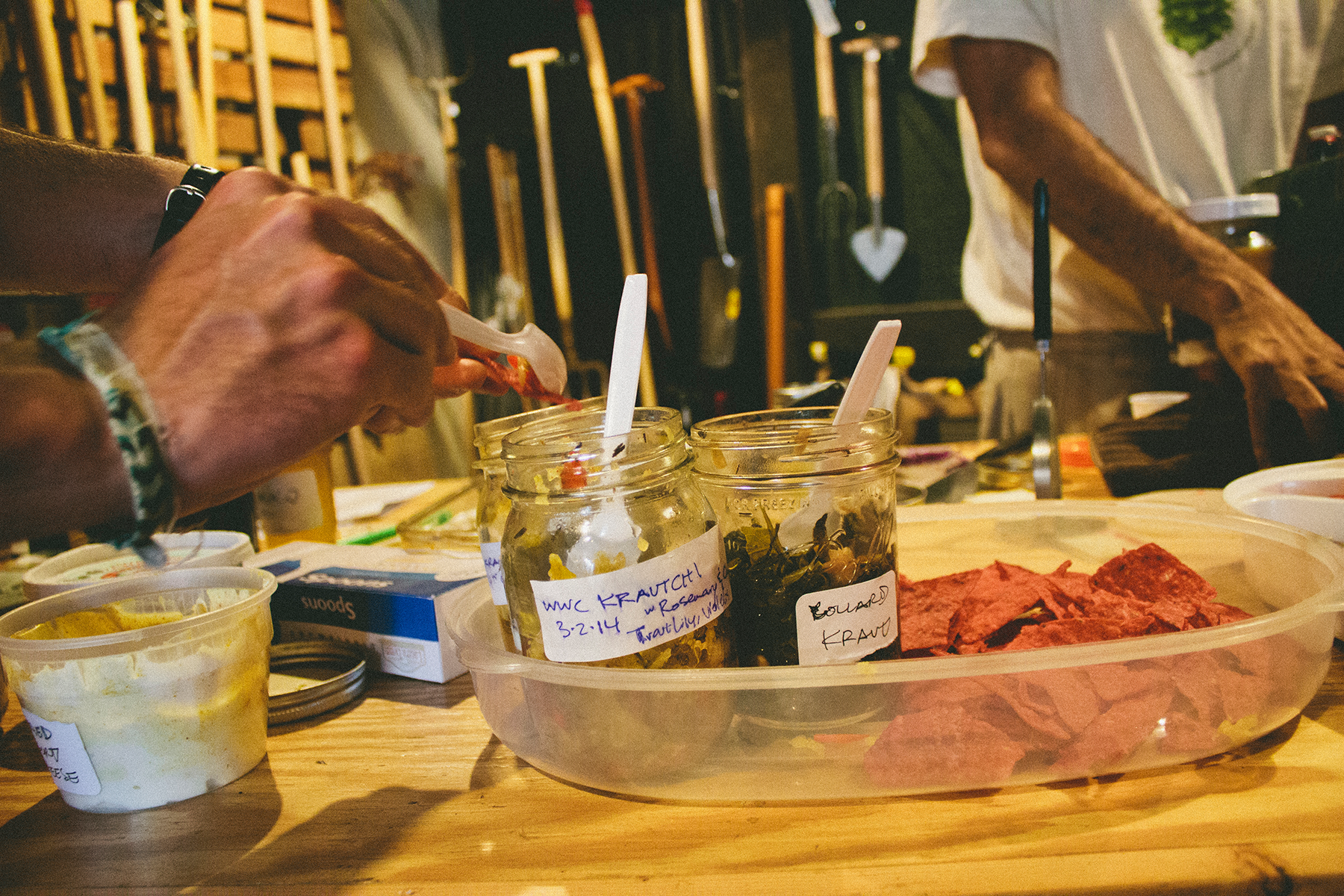 Fermented Sunflower Seed Cheese Recipe
 
Seed cheese is an aerobic fermentation process that is very simple to make. The texture and taste is so distinctly delicious - much more than a non-dairy cheese available in most stores. With extra healthy bacteria to boot.
Having said that, a word of caution—don't think of nut and seed cheeses as taste or texture equivalents to their dairy counterparts. It provides a much softer, smoothable spread. They do, however, stand on their own and can easily be served in familiar ways: on a board with figs, pears, and nuts; crumbled in salads; rolled into a soft taco; spread on toast.
Bloom wants to know your favorite vegan seed cheese and fermens! What are your favorite ingredients, methods, and recipes?
Stay Fermented! Xoxo,
Yr Gut
Ingredients:
1 cup water or kraut juice1 1/2 cups hulled raw sunflower seeds
1 tbsp miso
Method:
1. Soak sunflower seeds for 8 hours and then sprout for 8 hours.
2. After this time, blend miso, water and slowly adding sunflower seeds to the mixture in a high speed blender or food processor. Kraut juice or Rejuvelac are other substitutes for miso.
3. Blend at high speed until all are blended to a smooth thick paste. Pour the mixture into a glass jar, cover with a clean towel or cloth, and leave it for 12-18 hours (the longer it stands the stronger the flavor will be).
4. After the fermentation time elapses, stick a spoon through the cheese on top and pour off and discard the liquid that has settled at the bottom of the jar. The mixture may be dehydrated for firmer consistency. Store extra cheese in the refrigerator and cover tightly, it will keep for 5 days.