Rejuvelac is a raw food beverage made from sprouted wheat berries that are then soaked and fermented in water for about 2 days. The process of fermentation pre-digests the wheat, making it easier for our bodies to utilize the nutrients. Probably one of the healthiest ferments up to date, it's a rich source of B, E and K vitamins and active enzymes. No added salt, no added sugar, phytic acid breakdown, and full of our good ol' pal lactobacillus. Nothing for anyone to complain about except maybe that acquired taste, but don't knock this grain sprout drink 'til you've tried it. Rejuvelac is cloudy, with the color of pale straw. It has a flavor that is lemony, sharp and slightly tangy, with a mild earthy aroma. Not unpleasant at all, just different.
Wheat is traditionally used although other grains like quinoa, millet, kamut, barley, brown rice, rye, and whole oat groats can all be used in place of wheat berries. Mild with a subtle lemon tang, Rejuvelac is both a bubbly DIY health tonic and a natural "starter" for seed and nut cheese cheeses or yogurt. It's also good to use in place of water or juice in your smoothies.
Rejuvelac is inexpensive and simple to make: place a handful of grains in a glass jar, fill with water, soak, drain a few times, rinse, sprout, and soak again. Okay that sounds like a complicated set of steps, but trust us, it's not. The whole process takes about 4 days and the bacteria does all the work for you anyways. What's even better is that the fermented tonic can replace expensive store-bought probiotic supplements.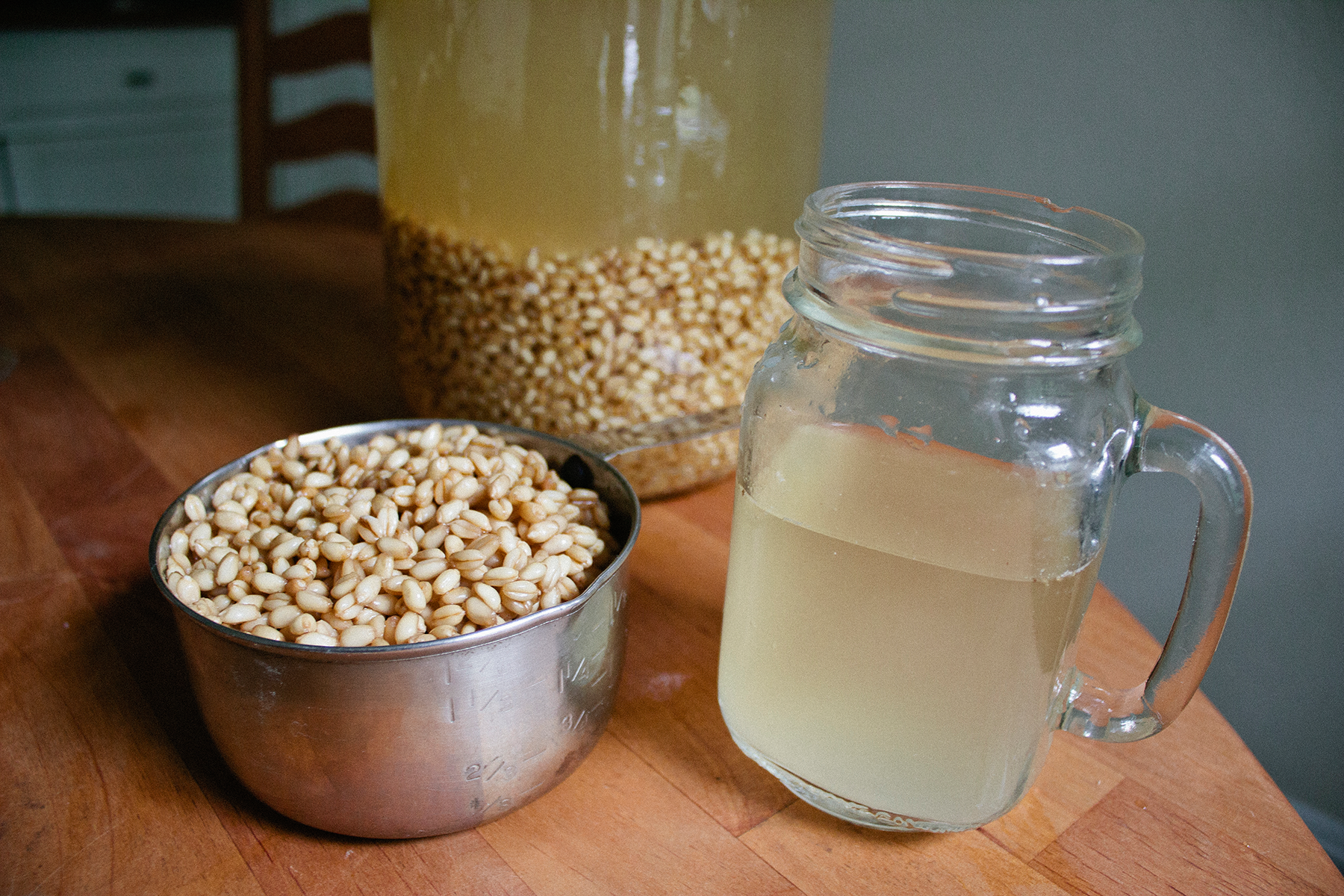 Ingredients:
2 cups whole grains (wheat berries, quinoa, millet, brown rice, rye, whole oat groats, or other grains)
8 cups water
Equipment:
1/2-gallon jar, with a wide mouth
cheesecloth
strong rubber band (the kind you get wrapped around broccoli, kale, and other produce)
Method:
Pour the grains into the jar, then fill the jar with water. Cover the jar with cheesecloth and secure it with a rubber band. Place the cheesecloth on top of the jar and secure it in place with a rubber band. Leave the grains to soak overnight (or at least 8 hours). Drain the grains, rinse them, and then drain them again.
Place the jar upside down at a slight angle so the water can drain and air can circulate. We used a dish rack.
Rinse the grains twice a day. After about two days, they will begin to sprout. When that happens, rinse and drain the sprouts well. Fill the jar once more to the top with water and let the sprouts soak for 48 hours. During that time, the liquid will ferment and become rejuvelac. Transfer the rejuvelac to a jar and refrigerate.
* Makes a 1/2-gallon or eight quarts
A second batch may be made by filling the jar and soaking for 24 hours; and a third batch, by filling again and soaking another 24 hours. After that the berries will be spent and may be put outside for the birds.